I created this couple for 'Living Sims' challenge, however I moved them into the house I had in mind when I was coming up with their characters. They are in my game exactly what i pointed them out to be in the challenge, and that's how i saw their home in my mind. It is not the challenge house or made for it, it is just decorated for them as i first planned their home in my mind.
To take part of the challenge go - A home together challenge
To download those sims go- for Maria HERE and for Henry HERE



This is one of the few houses i downloaded and left almost as it was, only changing it slightly. The original is made by nengi65 from SimsCrossing.
So this is the house Duwall family lives. It is situated just cross the road from the big mountain, has a lovely park next to it and is just yards away from the town centre and from the school. That was one thing couple had in mind while moving, they wanted to live near the school, but not bang in a middle of the town.
Here is an overview of the first and second floor.They haven't done the landscaping yet as Maria wants to do it herself after the baby has born.
This is their entrance hall. It is pretty basic and neutral, but in softer tones.
Henry works from home, in his studio in which he feels very comfortable in. In his mind this is his work space and work shouldn't leave outside his studio door, however his wife doest agree that much, as she loves paintings. One day Henry hopes to be well known artist and own his own art gallery.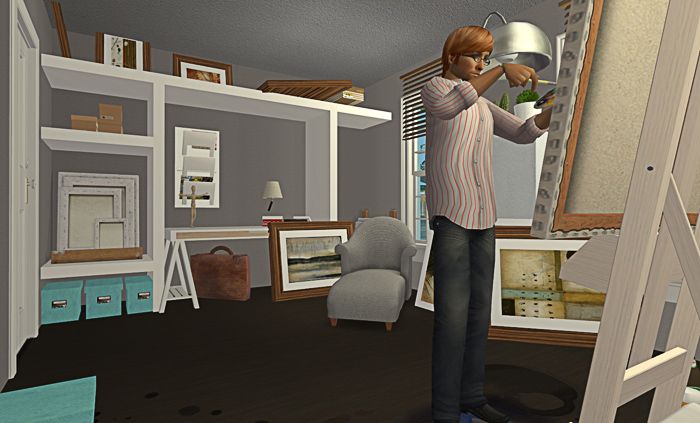 They have a small laundry room from the kitchen to do all their washing.
Their kitchen is quite neutral, but with simple comfortable touches.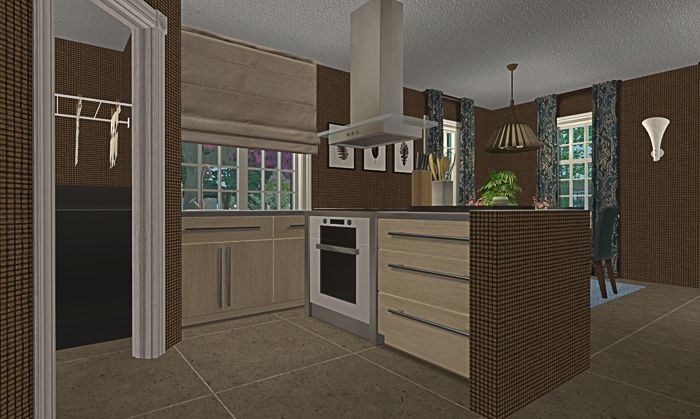 In their dining area Maria added simple touches like dining chairs and curtains in her favourite colour blue. Even though the dining area is in the same room as kitchen they both agreed not to build wall between, because they loved the family feel the open plan kitchen-dining room gave.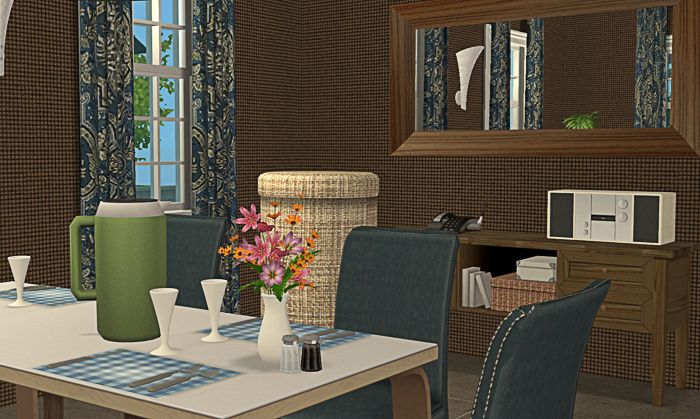 In the living room they mixed blue with neutrals and made it feel welcoming.
As Henry wasn't very keen of having paintings in the house,and Maria disagreed; they came to a compromise that Maria has to keep most of them out the main living area, but can make second floor corridor into a galery. So all Marias favourite paintings are exhibited in there, and added cosy sofa in the corner for reading and admirering her husbands work.
They decorated nursery in fun and cosy yellow, specially as they dont yet know who they are expecting. They wanted to keep babies sex in secret, but be ready for his/her arrival.
There is no picture of downstairs loo, because it is very simple, but here is a look into their second floor loo.
Bathroom got neautral walls, but blue flooring and accesories. It is a nice big family size bathroom and they both love it.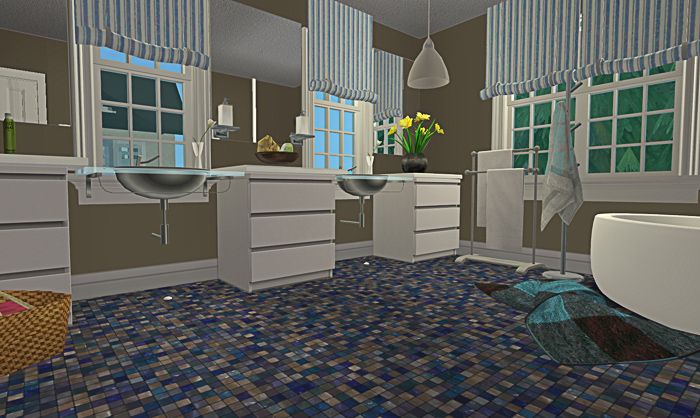 Their bedroom is very cosy and blue.